WIAW #7: Carbs are the New Black?
November 9, 2011
Posted by Nada

under

WIAW

Hello everyone, and happy hump day!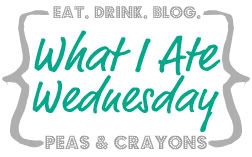 In the spirit of chronicling my half-marathon training, for this WIAW I thought I'd show you guys how I've been fueling myself during my first official week.
I kind of always thought carbo-loading was a myth, but I've actually noticed I have a lot more energy when I've had a good carby meal the night before a run.
Exhibit A: Vegan butternut squash mac n cheese with brown rice pasta (adapted from Oh She Glows's original recipe.)
This was delicious and surprisingly authentic tasting! The butternut squash made the sauce so creamy and you'd never guess there was an extra helping of veg in there.
I had tons of sauce leftover so I tossed it on some raw zucchini pasta the next day for lunch. Just as good if not better than the original version.
I've been on a bit of a baking spree lately.
Wholemeal seeded pita breads. These were so good I ate a whole one fresh from the oven.
They made for great sandwiches.
Mozerella Sheese, hummus, avocado, lettuce and tomato.
And of course, dipping utensils for some garlic roasted hummus.
Not complete without a ginormous marinated kale salad.
(Yes, I'm overdoing it with the nutritional yeast, but I don't care! It's that good, seriously.)
Other baking endeavors included oatmeal date cookies.
Perfectly sweet and chewy! (Recipe soon I promise.)
Refueling has been all about smoothies.
This one consisted of raspberries, bananas and hemp a la Pure2Raw.
But this morning's breakfast was another monster bowl of cereal with homemade almond milk.
Nature's Path GF flakes, bran sticks and some puffed wheat (sent to me by the lovely Shannon!), lots of cinnamon, dates, walnuts, bananas and sunbutter.
***
Monday night I put together an Indian inspired vegan dinner for the roommate.
A starter of socca chips served with a mint yogurt and cucumber salad and some cheater's mango and chili chutney.
Followed by butternut squash, chickpea and spinach curry on quinoa, with a side salad of greens, coriander, onions and fresh red grapes.
Made for another good library lunchbox the next day.
The meal was concluded with some not-so-Indian oatmeal raisin cookies.
I prefer the date – but these were still pretty good, especially warm from the oven. The roommate concurred.
All in all I'm finding it a little tough to re-introduce a lot of starchy carbs back into my diet. When I first went about losing weight I cut them out completely, and eventually got so used to not having them that I just don't crave them anymore. I used to be helpless in front of a steaming bowl of creamy pasta but now it definitely wouldn't be my first choice.
I made the pita bread when I realised how long it'd been since I'd had a sandwich, which got me thinking about this whole carbs debacle. I don't actually have anything against bread, pasta or potatoes anymore. I just think the standard varieties aren't as nutrient dense as I would like, so my goal for the coming weeks is to have more healthy starchy carbs like wholewheat bread(check), pasta and cereal grains.
Where do you stand with carbs?
Do you think carbo-loading works with regards to fueling running/exercise?
Favourite kind of cookie?
Until next time!