WIAW 8: Chickpeas and Cherries and Cookies, Oh My!
November 16, 2011
Posted by Nada

under

WIAW
Hey guys – it's Wednesday, halfway through a very busy week but there is light at the end of the tunnel.
I almost considered not doing a WIAW post this week because my eats have been a little random but I figured I'll share what I've got anyways. This will have to be a quick one as I'm blogging from my phone which has very low battery at the moment and I am without a charger – whoops!
Anyways, on to more important matters.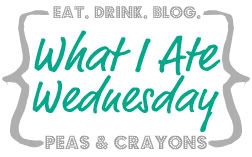 I've been eating chickpeas, and lots of 'em:

Clive's Arabian Chickpea Pie, so good I kept the wrapper and will be emulating soon once I gather all the ingredients.

A library lunchbox of tofu scramble with chickpeas, mushrooms onions and spinach.

Autumnal vegetable stew of butternut squash, sweet potatoes and chickpeas.

Lots of socca pizza (made from chickpea flour, don't forget).
I've also been trying to use up all my frozen cherries. Enter choco-cherry banana soft serve with a raw chocolate agave sauce.
And some DIY fruit soy yogurt with cheater's cherry compote and granola crisps.
And finally, cookies.
Vegan cookies.
Which also means vegan cookie dough.
Other random eats and snacks have included

These fruit piece things that Shannon sent me, amazing!

Roasted chestnuts from the German Christmas market that I went to this weekend.

Banana, pineapple and coconut smoothie – winning combination plus the little bobble hat is too cute.

A juicy fruit salad with lots of pineapple – just the way I like it.

I tried making Nicky's upside down single serving muffin but it was a bit of a fail – think I took it out too early because the smell was killing me. Still tasted good though!

This morning's pre workout snack of banana, raisins tahini and hemp seeds – simple and delicious.
Fave way to have chickpeas?
I'm a sucker for all and any hummus, socca and chickpea curries.
Best thing you ate this week?
Happy WIAW, all!